Repeaters
147.315 MHz PL100.0 Hz +
443.150 MHz PL100.0 Hz. (Yeasu DR-1X)
Houghton: Cross-Band Repeater to the 315: 449.315 MHz simplex PL100.0 Hz
APRS Digipeater: 144.39 MHz K8MDH-1
ECHOLINK NODE #405654 (KD8JAM-R)
Current Status of our echolink node
Echolink Nodes on Google Earth
Regional Echolink Nodes
Callsign
Location
Node
Comments
KD8JAM-R
(linked to K8MDH 315 RPT)

Calumet

405654

147.315+ repeater

W8CDZ-R

Hancock

283375

146.880+ repeater

W8YY-R
Houghton
355330
MTU 444.5+ repeater
KE8IL-R
Marquette
394682
Michi-an
ND8M-R
Iron Mountain
276724
146.85 repeater
W8RDR-R
Munising
275200
145.41-/147.195+ repeaters
KB0P-L
Ishpeming
2052
444.2+/147.27+ repeaters
K9MLD-R
Ironwood
319316
146.805- repeater
KC8QZG-L
Newberry
240336
146.61- repeater
W9ZL-R
Appleton, WI
408545
145.33- repeater
W88DX-R
Gaylord
493424
147.12+ repeater
N8FQ-R
Grand Haven
469574
145.49- repeater
K9JAC-R
Hubertus, WI
114168
Milwaukee area repeater
W9GLG-R
Wasau, WI
198118
443.325+ repeater
W8TVC-R
Traverse City
56464
145.27- repeater
NØKFM-R
Minneapolis
268460
145.29- repeater
AA9VI-R
Northbrook, IL
7641
442.725+ (Chicago area)
WW8GM-R
Detroit
99846
443.075+ repeater
W9RCA-R
Indianapolis
6522
146.88- repeater
---
APRS DIGIPEATERS
KCRA club members Howard (KD8ABP) and George (W8FWG) have donated 4 digitpeaters to the KCRA and CCRAA . They use the nationwide APRS frequency of 144.39 MHz FM and communicate at 1200 baud. APRS is a 2-way tactical communications mode. It is commonly used for text messaging (base and mobile stations), WX station reporting, vehicle tracking, and checking the current status of VHF propagation. APRS is not just a VHF radio system, however. Many VHF APRS stations nationwide are also connected to the internet. So it's possible to send a test message from a station in Colorado to a mobile station in the Copper Country using APRS! The U.P. Skywarn website has plenty of information on configuring your own home or mobile APRS station. The stations are located as follows:
| | | | |
| --- | --- | --- | --- |
| Callsign | Location | County | Path |
| K8MDH-1 | Mt. Horace Greely | Keweenaw | WIDE3-3 |
| W8CDZ-2 | Osceola | Houghton | WIDE3-3 |
---
Autopatch Guidelines
FREE for everyone to use. (Try it)
1. Listen on the "315" receive frequency first……if it is in use, wait until it is free.

(BREAK IN FOR EMERGENCY'S)

2. When it is free of all conversation, announce…."(Your call sign) Requesting Autopatch"
3. Operate the PTT switch on your microphone and dial (*) (star) plus the 11, 10 or 7 digit telephone number you are calling (2-digits for autodial) .

For EMERGENCYS (Fire, Police and Ambulance Services) dial "*911" for the Keweenaw County Sheriff, or "*912" for the Houghton County Sheriff, or "*916" for the U.S. Coast Guard, Portage Station in Dollar Bay. With this type of call please be sure to tell the dispatcher WHERE you are, as the caller id will not show your ACTUAL LOCATION !..

Release the PTT switch and you will hear the automated response "Autopatch….(followed by the digits you just dialed)…followed by the ring cycle of the telephone. When the person answers, remember it is half-duplex, that is while you hold your PTT down, you can't hear the party you are calling….so release to LISTEN….and re-operate the PTT key to talk to them.
4. Ending a conversation. When you finish you will simply operate the POUND (#) key, (That would be the key to the RIGHT of the ZERO) then automated voice will then say…."CALL COMPLETE"……and with that statement it will disconnect you from the phone line.
5. Now suppose you get out of range, before you can initiate a disconnect? There is a 2-1/2 minute timer that will automatically disconnect you from the phone line……or….it will give a voice announcement of : 'PLEASE HANG UP AND TRY YOUR CALL AGAIN." Most hams will realize that you can't bring it down, and they will hit the POUND (#) key and bring it down for you.
6. MEMORY AID: Just remember this simple phrase:……."STAR UP. (LIKE STARS IN THE SKY)……AND POUND DOWN (LIKE A HAMMER), (pounding down) These two keys are on opposite sides of the touch-tone pad (dialer) on your microphone and on all telephone dials, that are Touch-Tone.
7. On the Keweenaw Repeater ("315") we offer Free autopatch for everyone to use and two FREE autodial slots for members only. To get your autodial slots contact (Bill KD8JAM) and I will program them for you, at no charge. People sometimes use the last two digits of the telephone number you are using provided they are not already in use.
---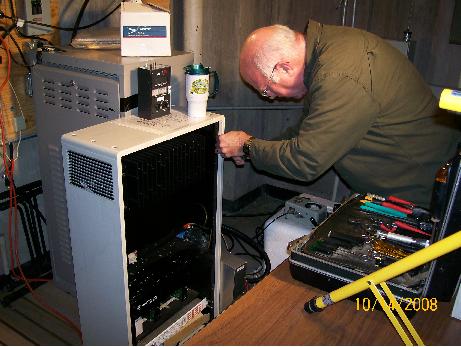 Gary, K8YSZ is working on the .315 repeater.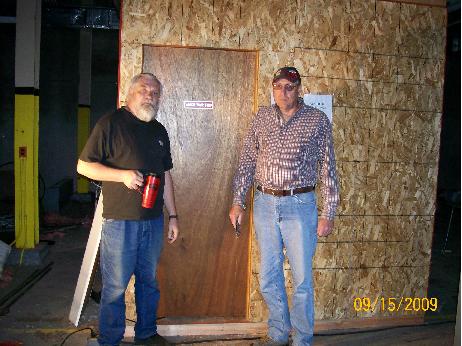 Howard, KD8ABP and David, KD8CGA after completion of the new room for the repeater. Nice job guys!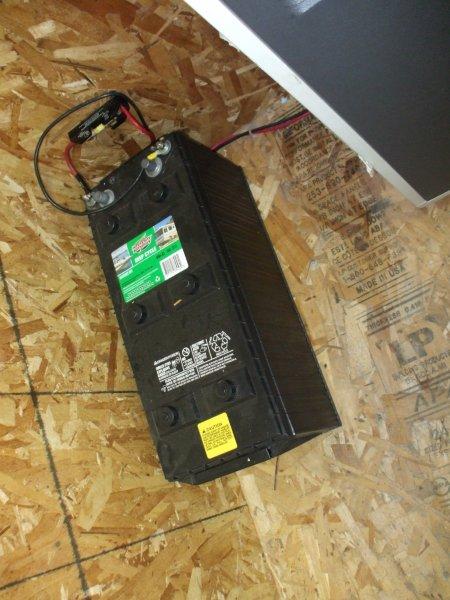 Ever wonder what keeps the repeater going when the commercial power quits?